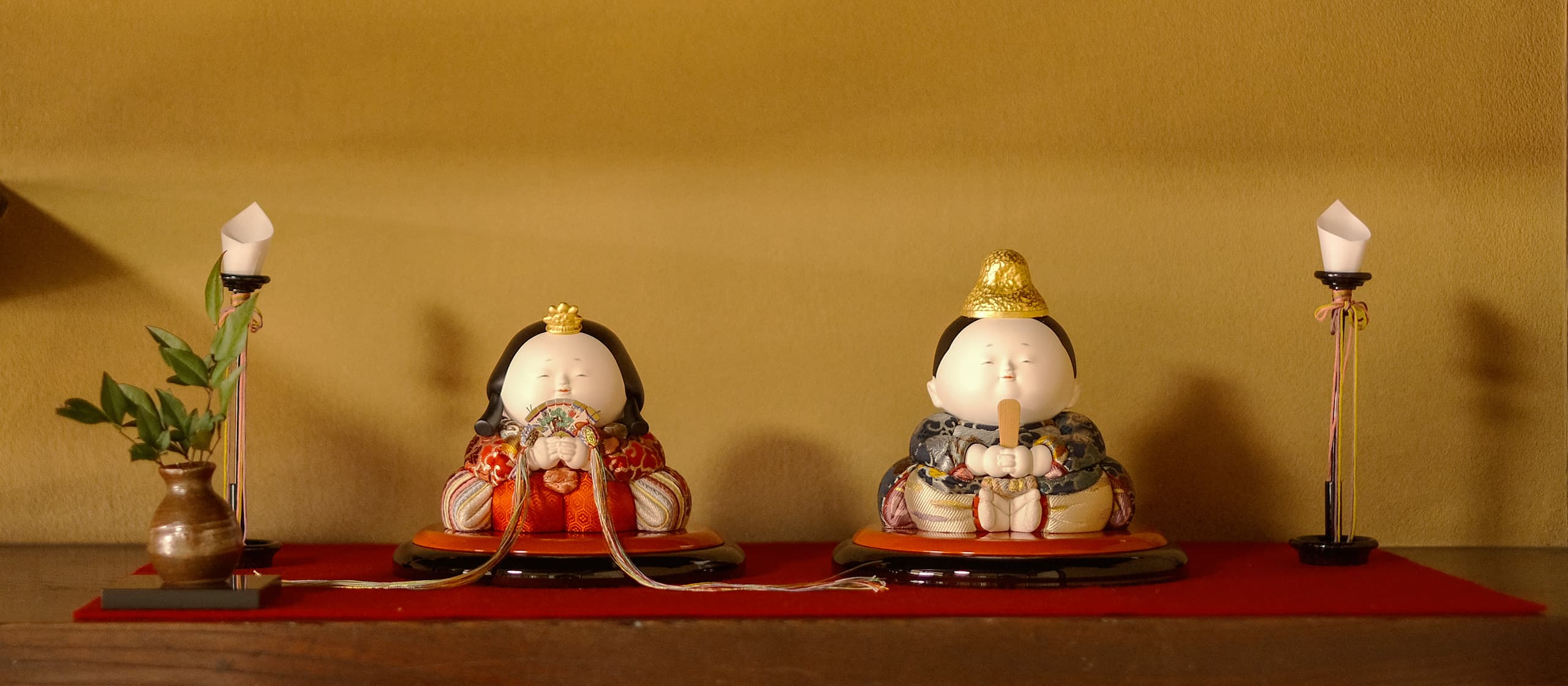 Ningyo no Taira is a shop specializing in traditional festival decorations such as Hina dolls, Gogatsu dolls, Armours and Kabuto, Koinobori. The products we offer are made by renowned craftsmen who craft them using traditional methods.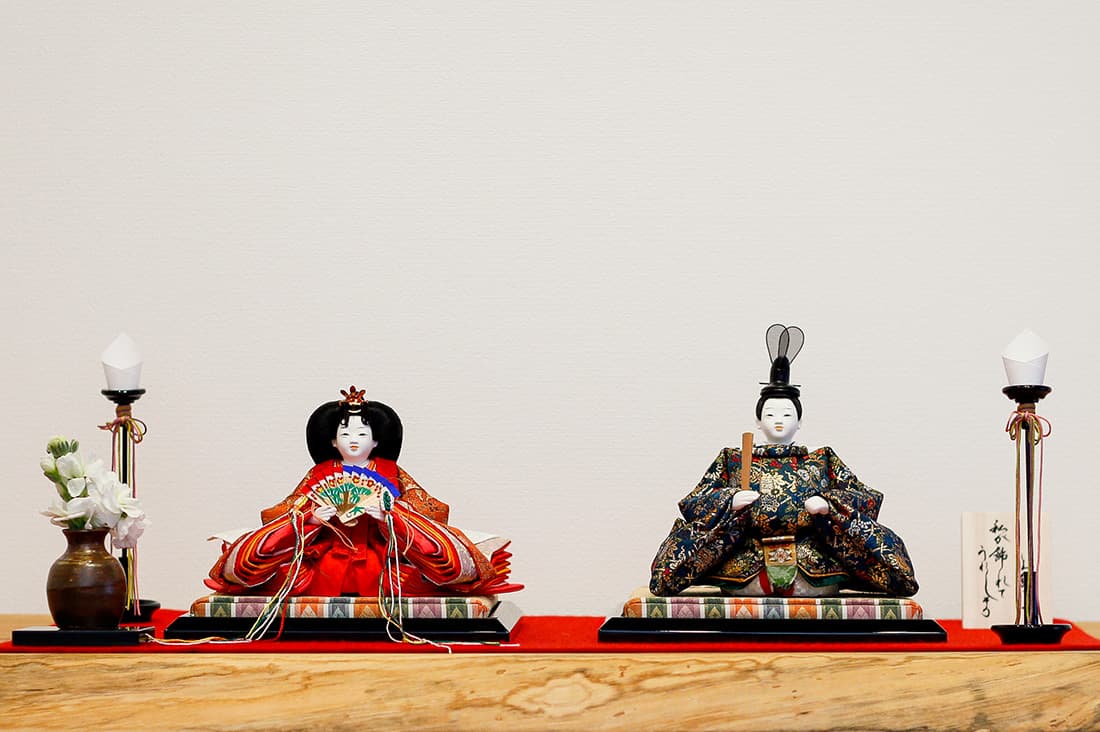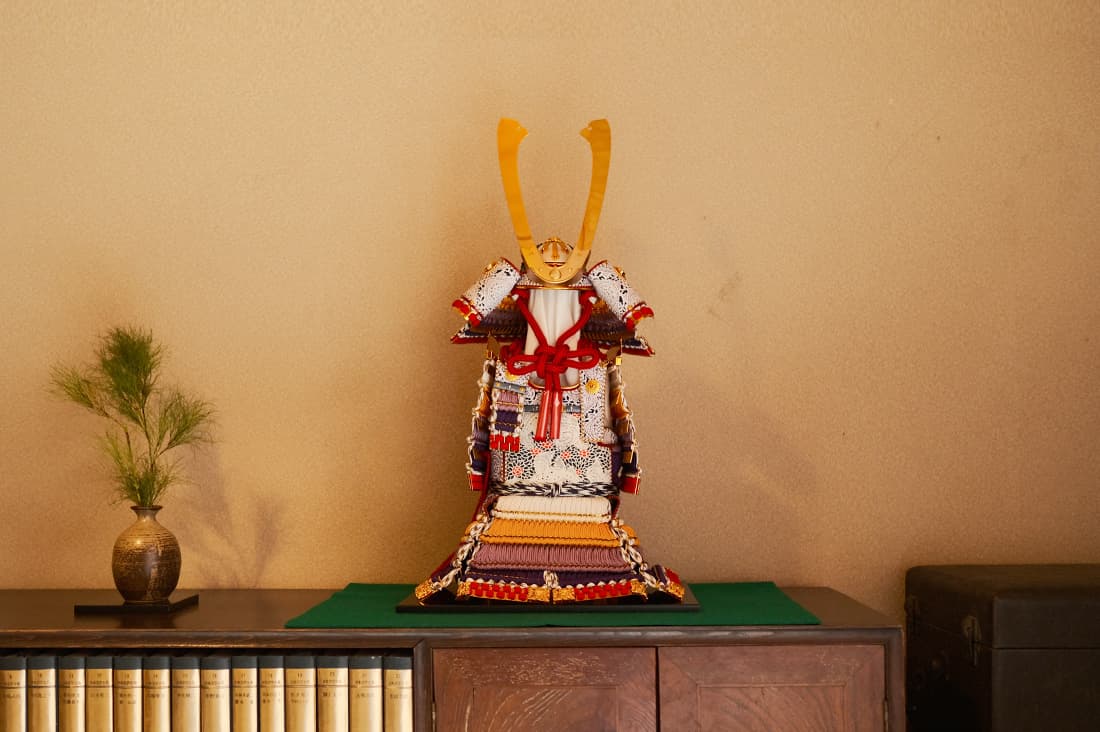 Ningyo no Taira
Ningyo no Taira is located in the historic Kurayoshi district (white warehouses). We are specialists in seasonal decorations (Hina dolls, May dolls, armour, helmets and koinobori) since 1913. 
Ningyo no Taira will accompany and advise you in discovering and choosing the right object, both symbolically and aesthetically, which will then be displayed and celebrate the healthy child growth each year. This object will be a symbol for the child throughout his or her life, of goodwill and the strong bond with godparents or parents who gave this sumptuous gift.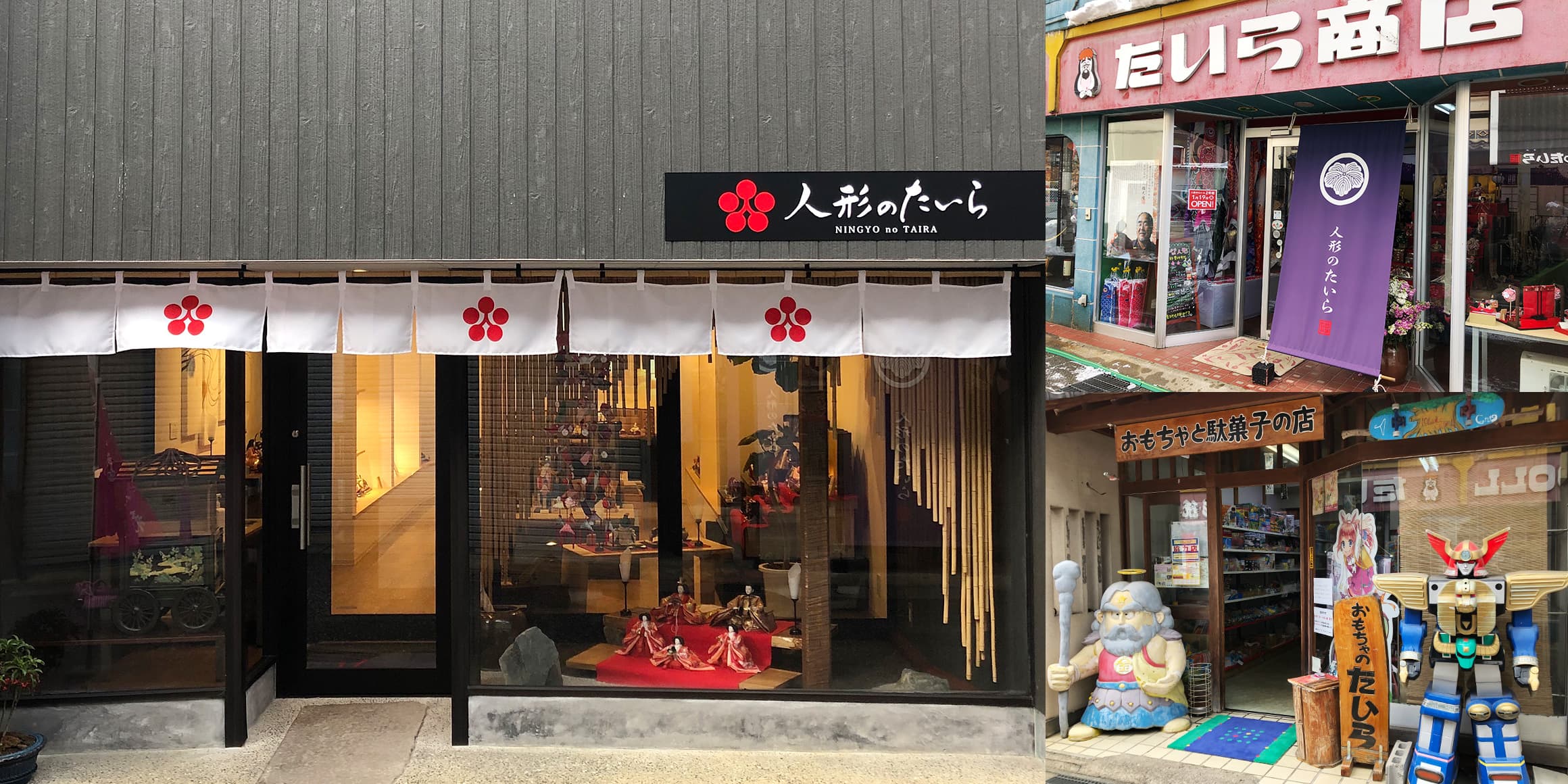 The work of the craftsmen
For four generations, Ningyo no Taira has worked with craftsmen from all over Japan who have great skill and a deep knowledge of the arts.  Japan is a country which celebrates the traditional skills of its craftsmen, among them Junpei Ishikawa, whose craft has been recognised by Saitama Prefecture as an intangible cultural asset. Today, the third generation of the Ishikawa family makes dolls by hand in the traditional way using techniques inherited from the founder, Junpei Ishikawa. The first thing our craftsmen take care of is the choice of materials. They carefully select the best materials so that their creations will accompany your child throughout his or her life, the wish in Japan being that the child reaches 99 years of age (Hakushu). They then create beautiful and refined forms based on their sensitivity and knowledge of art, giving the object a unique beauty that will not be affected by the passage of time. The traditional skills of the craftsmen who create these works and their spirit which, while accepting the evolution of time, respects the true nature of traditional beauty, in which foundations of the work stands.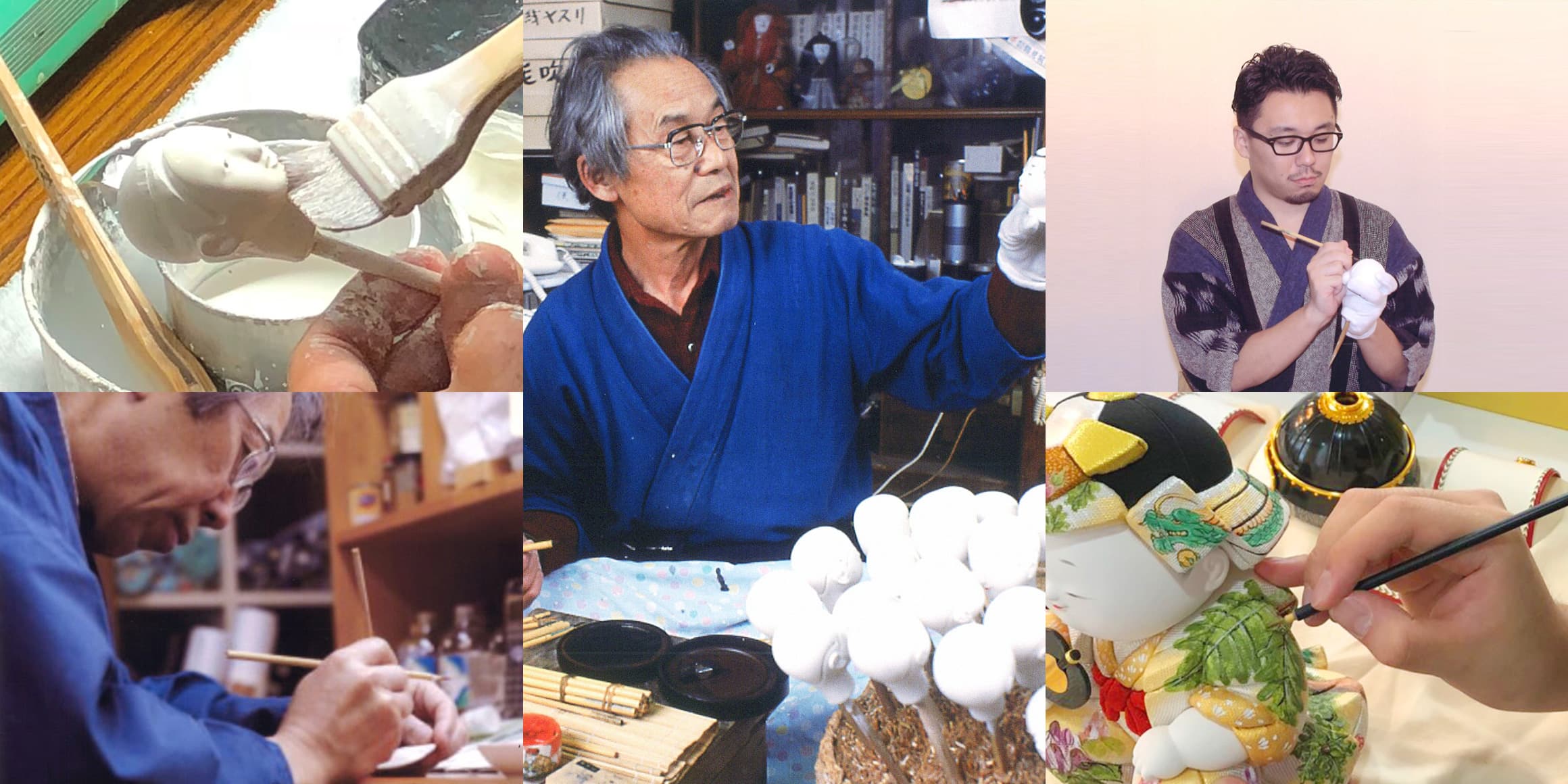 Japanese festivals
Japan is a very modern country, but at the same time it is very attached to its traditions and customs, which are closely linked to the four seasons and thus to the changes in nature. Since ancient times, the Japanese have respected nature and given meaning to the small changes and transitions it undergoes.
The Hina Matsuri (Doll Festival) on March 3 and Children's Day (May 5) are called Jyoushi-no-Sekku (Peach Festival) and Tango-no-Sekku (Iris Festival). These festivals originated in China and were introduced to Japan during the Nara period (710-794). The "sekku" festivals are events to mark the changes of season and climate, to ward off evil spirits and to renew good spirits. On these occasions, we eat seasonal foods and pray for the safety and happiness of our family and close friends.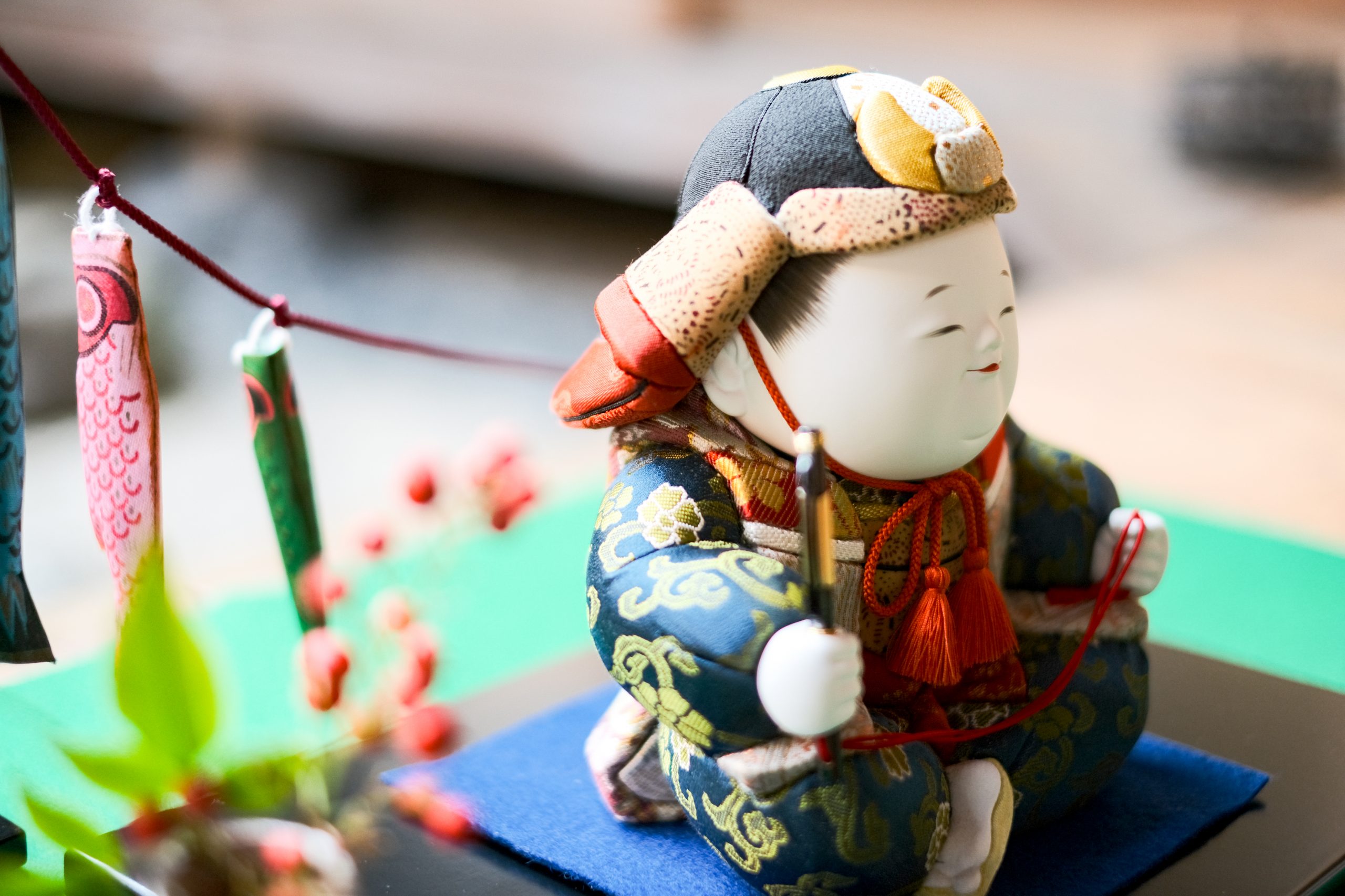 Jyoushi-no-Sekku (Fishing Festival) Hina matsuri (March 3 each year)
In Japan, March 3 is known as the girls' festival (Hina matsuri). Hina dolls are displayed before and after the festival in the hope that they will protect children from misfortune and keep them happy and healthy throughout their lives. There are two typical types of Hina dolls.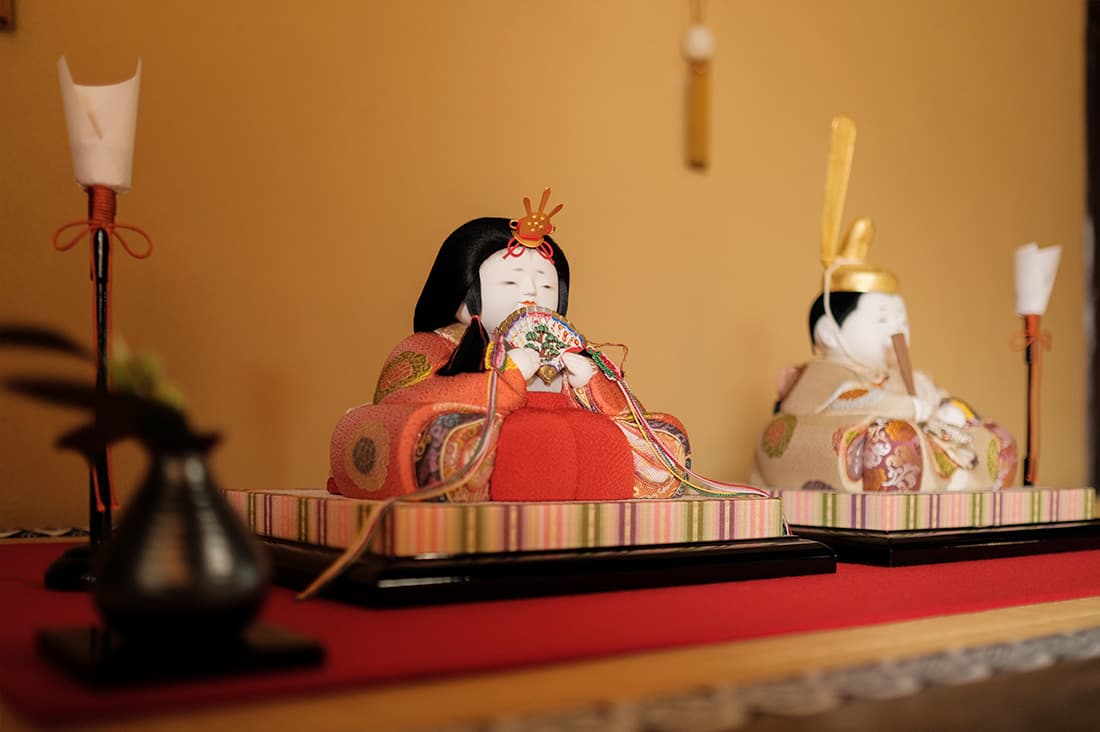 Kimekomi dolls
Kimekomi dolls are made by carving groove-shaped strips into a paulownia wood, plaster or pottery base and pressing fabric (kimekonde) into them to dress the doll in kimono. The shapes are rounded, elegant and warm and the individuality of the craftsman can be seen in these dolls.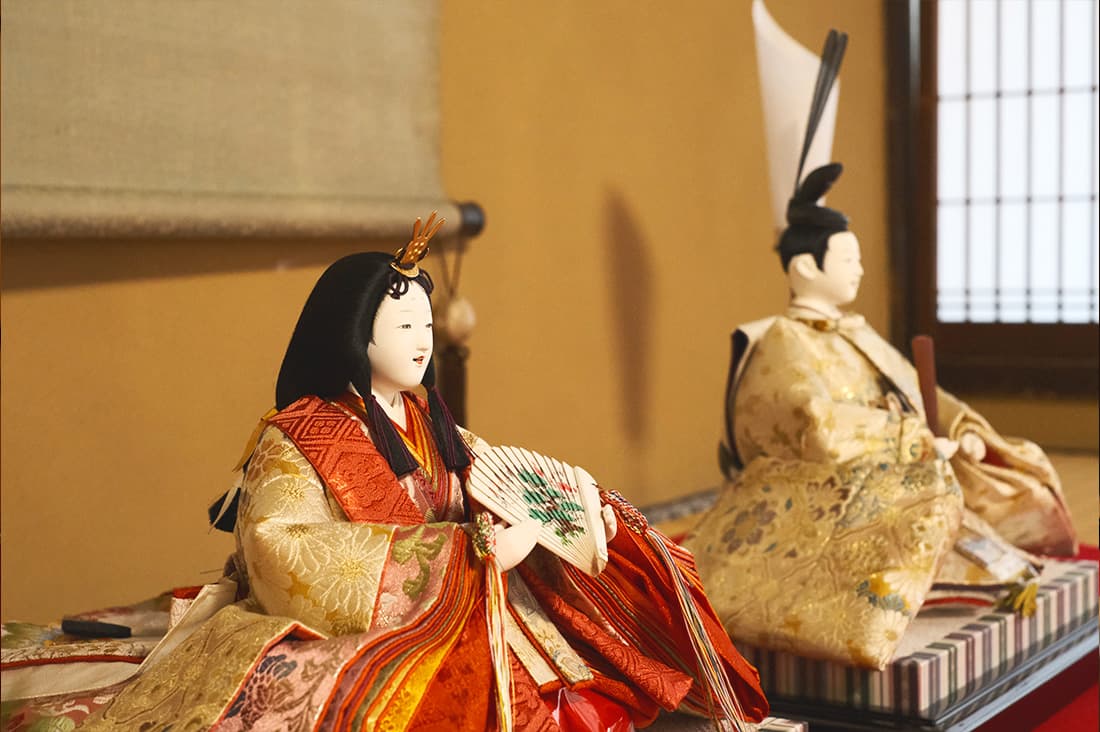 Ishogi dolls
In contrast to kimekomi dolls, the creators of Ishogi dolls, in addition to the costumes, pay particular attention to the proportions of the dolls so that they resemble real humans as closely as possible. The base of the dolls is made of straw or wood, and the kimono is sewn onto this base to form the body of the doll. The collar, hem, sleeves and other parts are made separately and added one by one. These Hina dolls wearing kimonos are beautiful and elegant.
Dolls are unique creations, made using techniques handed down from generation to generation, and are a once-in-a-lifetime possession. These objects accompany a person for their entire lifetime, they are irreplaceable and are part of the guardians of the home and family.
Tango no Sekku (Shobu no Sekku) Children's Day (May 5 each year)
In Japan, May 5 is Children's Day. It was a day to pray that the heir would grow up healthy and the family would prosper. The kabuto (helmet) and armour express the family's wish that the child will grow up healthy. Like the Hina dolls, they are considered to be there to watch over the child and accompany him throughout his life.
It is common for maternal grandparents (nowadays paternal grandparents also participate) to give samurai dolls and helmets and display them in the house for a month each year. Other family members, godparents and friends sometimes gave Kintaro and Momotaro dolls as congratulatory gifts. In addition to the indoor decorations, it is traditional to display koinobori and samurai banners outside to wish the child a healthy and vigorous life.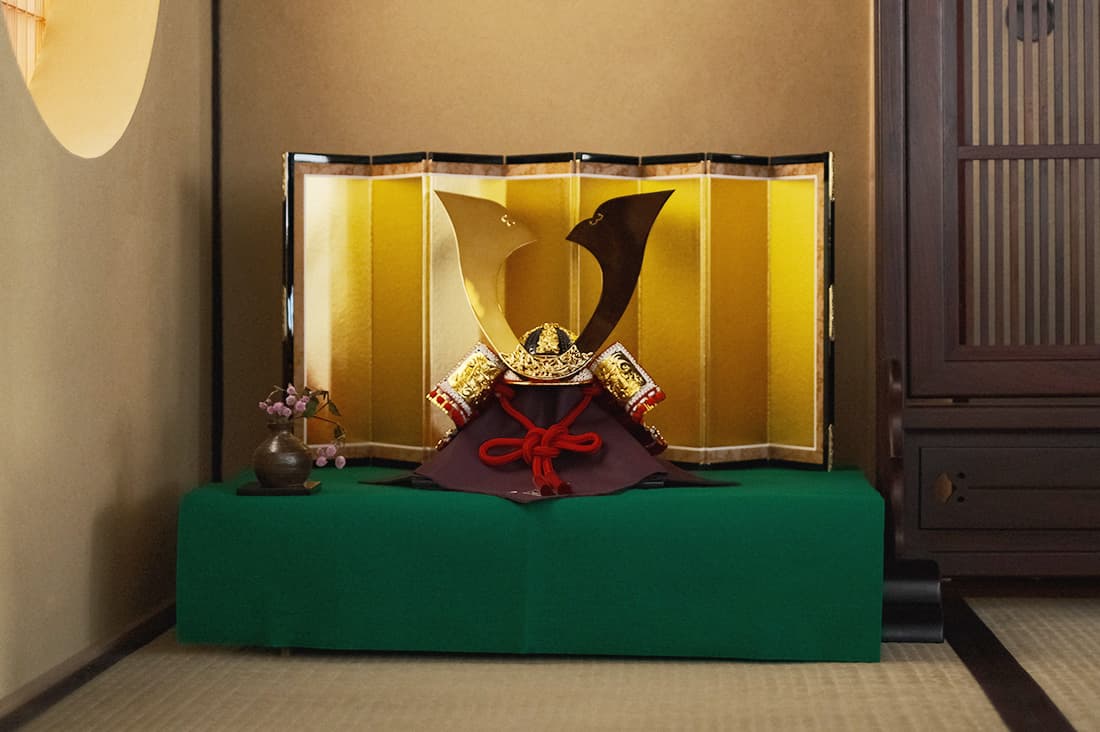 Armour and Kabuto (helmet)
The display (in one of the rooms of the house) of armour and helmets during this festival is intended to protect the children and to pray for their healthy growth. The armour is an item intended to protect the body, and the purpose of the armour/helmet display is to protect the child from harm. The belief is that the armour takes the place of the child to absord whatever is bad for them (illness, accident, failure, etc.). With this armour as a substitute, the child can grow up healthy and safe. Helmets are often displayed with bows, arrows and swords, but this tradition has evolved into a more peaceful ritual, with some shops recommending that plants and flowers be displayed next to the helmet.
The armour, like the dolls, is made with the same wisdom as the craftsmen who pass on their knowledge from generation to generation. Materials are carefully selected, processed and assembled to produce only the highest quality pieces. At Ningyo no Taira, we work with the Chikaraishi Koujin workshop, whose tradition and know-how are recognized throughout Japan. Today, the fifth generation of craftsmen work with the techniques inherited from their ancestors. For most of the gilded metal pieces, they use 24-carat gold plating to create pieces that are resistant to lasting shine. The fittings are all authentic and demonstrate beautiful, careful, and flawless workmanship.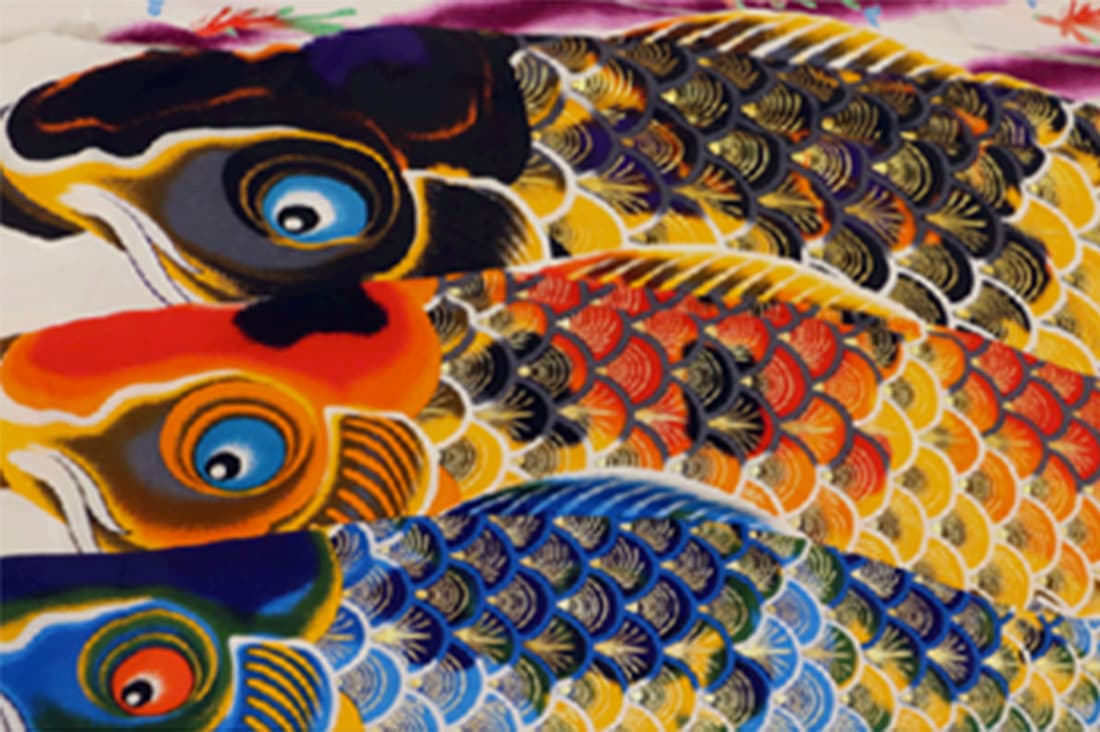 Koinoboris
Koinoboris are windsocks decorated with carp motifs, which decorate the landscape of Japan from April to early May, in honour of Children's Day (originally Boys' Day) on May 5. Koinobori can be up to several metres long. Koinobori originates from a Chinese legend. The story goes that a carp managed to swim up a waterfall called Ryumon (the dragon's gate), against the current this carp went up, then it became a dragon that climbed to the sky. Carp then became a symbol of vigour and strength through the story of this carp, a creature with great life force, climbing up the waterfall, it also symbolizes success in life through its metamorphosis into a dragon. The koinobori are hoisted to bring good luck to their child, wishing their child to grow up healthy, strong, and successful in whatever they do.
Today, due to housing in Japan and other reasons, we are seeing a shift from Koinobori that were displayed outdoors (especially in the countryside) to smaller Koinobori, with shapes and materials more suitable for interior displays. However, even if the form has changed, the meaning is for children to feel loved and supported. We believe that these traditions (sekku) for children are an opportunity to remind them of the strong bond with their loved ones and to make them more confident and proud.

Conclusion
At Ningyo no Taira, we can help you find the perfect gift for your child, a gift that is unique in the world. A gift with meaning that will accompany and protect him throughout their lives. That is why we can present our catalogue in your language and tell you about the history and cultural aspects of the tradition of Hina dolls, samurai helmets, armour, and koinobori.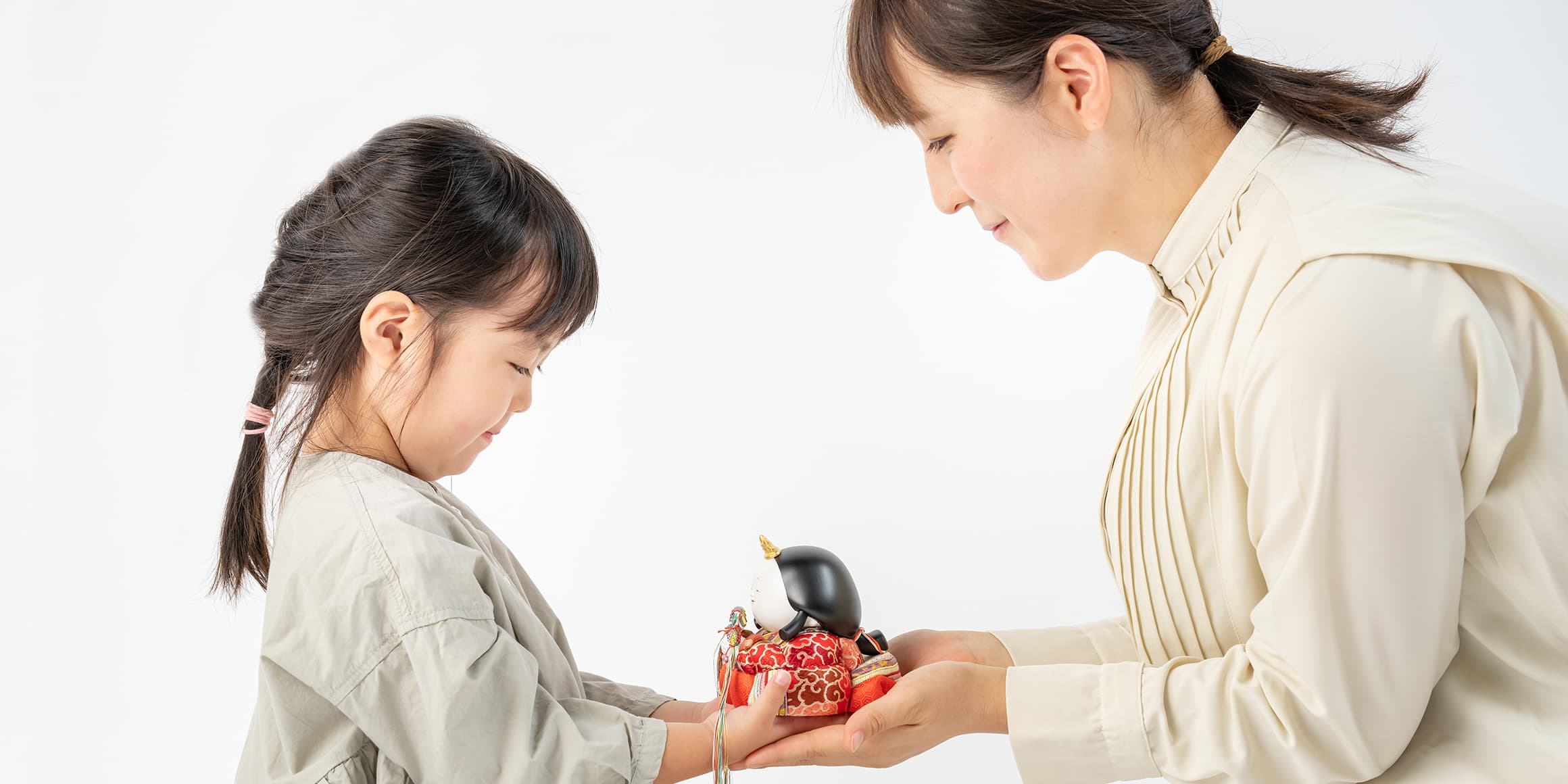 We want you to experience emotions
that will stay with you for 100 years.
This is the goal of Ningyo no Taira.
From birth, children are accompanied by our dolls and learn to cherish them and develop an attachment to them. As they grow up, they will be able to enjoy the work of art that it represents. These objects will become treasured by children throughout their lives. We hope to welcome you one day or present our work at events near you so that you can see its quality and beauty.
You can contact us using the form below. You can also send us a message for a video conference.
 We ship worldwide using all major carriers (Japan Post, DHL, UPS).